Environment part--I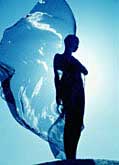 Wool is a natural, biodegradable fibre and is both renewable and recyclable. It has an inbuilt environment advantage because it is a natural fibre grown without the extensive use of herbicides and fertilizers.


However, in common with almost all other manufacturing activities, wool processing has the potential to cause environmental damage. The The Woolmark Company, which represents wool growers in Australia is committed to ensuring that wool's transition from fleece to product in apparel and interior textiles production is environmentally sound.


Environment Technology Group


The Woolmark Company developed an environmental technology unit at it's Development Centre in Ilkley, United Kingdom, in 1986 and now spends more that a quarter of its total research and development budget on the environmental projects. The inter-disciplinary team has a wide ranging work program, covering the potential environment impact of all aspects of wool processing. Various special finishes and processes enhance wool's versatility bringing consumers a wide colour range, machine washability, flame resistance and increased light resistance. In providing these performance enhancements, pollution from the manufacturing processes must be eliminated or minimized for wool to maintain its naturalness.

The Woolmark Company's environmental program has made major strides in developing new techniques that reduce the environmental impact of processing wool. These advances include new processes for shrinkproofing, mothproofing and dyeing. Other achievements are the enforcement of bans on the use of toxic, non-biodegradable pesticides in The Woolmark Company member countries and the controlled use of biodegradable pesticides on sheep.


In January, 1992, The Woolmark Company formalised its environmental program by launching an Environmental Policy - a far reaching document that commits the organisation to work to reduce even further the environmental impact of wool processing.


The Woolmark Company Environmental Policy - January 1992
The Woolmark Company is concerned about the environment. It uses its influence to increase industry-wide appreciation of environmental issues, and works to improve the environmental profile of the wool and Woolmark products.

The Woolmark Company is committed to working to reduce further the environmental impact of wool products and processing. In particular, The Woolmark Company focuses its activities to:
Maintain an expert understanding of the science of wool and its environmental potential, and monitor significant local and international developments in social and political attitudes towards the environment.
Encourage high quality debate on the wool-related environmental matters, and provide an authoritative voice in programs of active communication, consultation and participation.
Regularly review internal operations and Woolmark specifications for environmental improvement opportunities.
Give a high priority to environmental criteria in research and development work, and strive to eliminate any potential for damage arising from wool production, processing and marketing.
Establish guidelines for good environmental practice at all stages of wool processing and marketing.
Encourage wool production and processing operators, and especially Woolmark licensees, to establish their own environmental policies and action plans.